Welcome to the Bloomfield
on the Lake Park Association
---
Every year, flowers and plants are replaced at the Middlebelt Road entrance and also at the various small islands in the cul-de-sacs on each court, on Bloomfield Park Drive, and on Rolling Ridge Road. These areas are also watered to keep them looking fresh.
Our subdivision roads were re-paved in 2001 and have been maintained to high standards. The Board ensures that lawns are mowed in the spring, summer, and fall and that snow is plowed in the winter, and salted when necessary.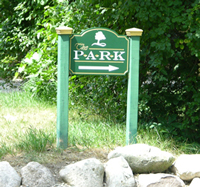 Nestled 1/4 mile southwest of the intersection of Lone Pine and Middlebelt Roads, the Bloomfield on the Lake Park subdivision consists of 146 homes that were designed and developed by the Herman Frankel Organization.
The Middlebelt Road entrance features two illuminated signs to identify and to help visitors locate our subdivision.
Visit our subdivision's winding roads, several small lakes, and four large parks. Three of the four parks are readily accessible.
The Board of Directors holds an annual meeting for Association members in October.
The Association Board of Directors ensures proper maintenance of the commons areas and regularly makes improvements to Association property.
Trash collection for the entire Association is performed once per week using a contractor selected by West Bloomfield Township.